IBC container for transport
Containers in the frame for food and aggressive substances. They can be used for transport of goods of Class II and III of dangerous.
Containers are manufactured according to TU 25.2-35984946-001:2010 designed for transportation and storage of all types of substances, including food and dangerous (aggressive). They can be used for transport of goods of Class II and III of dangerous.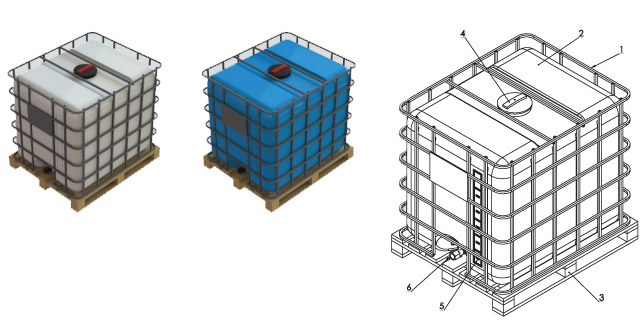 1.Steel frame galvanized reinforced.
2. Container is made of special high-strength polyethylene with high-impact performance.
3. Amplified pallet (wood or plastic)
4. Pressure cap with breather (tanks for transport according to international rules on the transport of dangerous goods must be equipped with respiratory valve to prevent a vacuum, and subsequently destroying tanks)
5.Dimensional scale of the tank.
6. Crane type ball (brass or plastic Ø 32 or Ø 63)
| The set includes | Price, UAH with VAT |
| --- | --- |
| Plastic containers | * |
| Zinced frame | * |
| Wooden pallet | * |
| Crane Ø32 | * |
| Pressure cap Ø 150 mm | * |
| |  6500 |
| | |
| Alternative components | |
| Plastic pallet | 2500 |
| Crane Ø 63 mm | 450 |
| Pressure cap Ø 320 mm | 750 |
NEW: TANK in the carcasses of 1,500 liters
Plastic containers, placed in a frame – ideal for transporting liquids. These containers are ideal for water and food, and for other more aggressive liquids.
There is always a risk of damage to containers during transport, but the metal frame ensures protection from damage. In addition, any container ibc, besides the frame, equipped with a reinforced wooden tray, flip-top lid with breather, as well as brass or plastic ball valve for easy draining. The dimensional scale is installed to control the amount of fluid in cubic containers. To increase the strength of the structure, in addition to the frame, plastic cubic containers are made of high-strength polyethylene with higher impact resistance characteristics.
Plastic cubic containers are suitable for the transport of fluids in the machines, which are not especially dedicated for such works. For example, it can be placed in a small van. Cubic containers perfectly match any transport and take up minimal space.